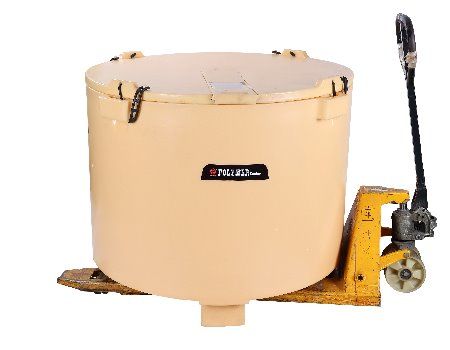 630L Round Rotomolded fish Tub

Appearance of size: L1160*H950mm
Volume: 630L
Capacity: 630L
Weight: 55kg
Feature: For Seafood Processing/Transportation.
Food grade, Acid and alkali resistant, Tough and durable, Accessible by a hand pallet jack from two sides and by a forklift truck from all four sides, Stackable.
Product Description: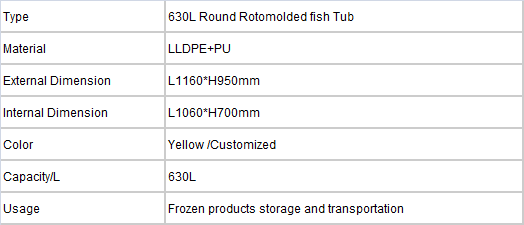 Key feature:
1.The lid is detachable from the body.
2.Forklift pocket is on the bottom for easy handling.
3.It is applicable for frozen products storage and transportation in aquaculture,agriculture, food industry ,fisheries, etc.
4. Two drain at the bottom of the body and drainage more quickly.
Product show:
Application:

Our workshop:
OEM orders accepted | Covering 220,000m2 |Four subsidiaries
Four Subsidiaries in Total
Polymer Rotomolding Co. Ltd was established in 2014. Its formerly name was Zhuhai Polymer Rotomolding Co. Ltd, which was established in 1993. Due to the need of expanding production, we moved from Zhuhai to Zhongshan in 2014. Our Company is able to provide one-stop service, including design development, production, sales and service. Moreover, Polymer Group has 4 subsidiaries.

GB/T 19001-2008- and ISO 9001:2008-certified
Our company is a member of the Association of Rotational Molders Australia, and also a member of Association of Rotational Molders International and Association of Rotational Molders China. Besides, we have passed GB/T 19001-2008 and ISO 9001:2008 certifications.

Covering 220,000m2 with 300+ Staff
Our company has more than 300 staff in present, covering an area of 220,000 square meters. We have our own R&D center, laboratory and design team. Our product were supplied to 2008 Beijing Olympic, 2010 Shanghai Expo and Shenzhen Universidad. We have been working with Coca-Cola and Hako Germany for over 10 years, as well as Walmart, Sam's Clubs, Igloo and Newell.

Wide Product Range
Our product scope includes cooler boxes, insulated containers for beverage and seafood industries, military boxes, industrial and agricultural storage bins, engineering parts and assemblies comprising of locally sourced components, landscape illuminations, traffic barriers, playground parts, marina floats, plastic manhole and plastic septic tanks, and different kinds rotational mold parts.